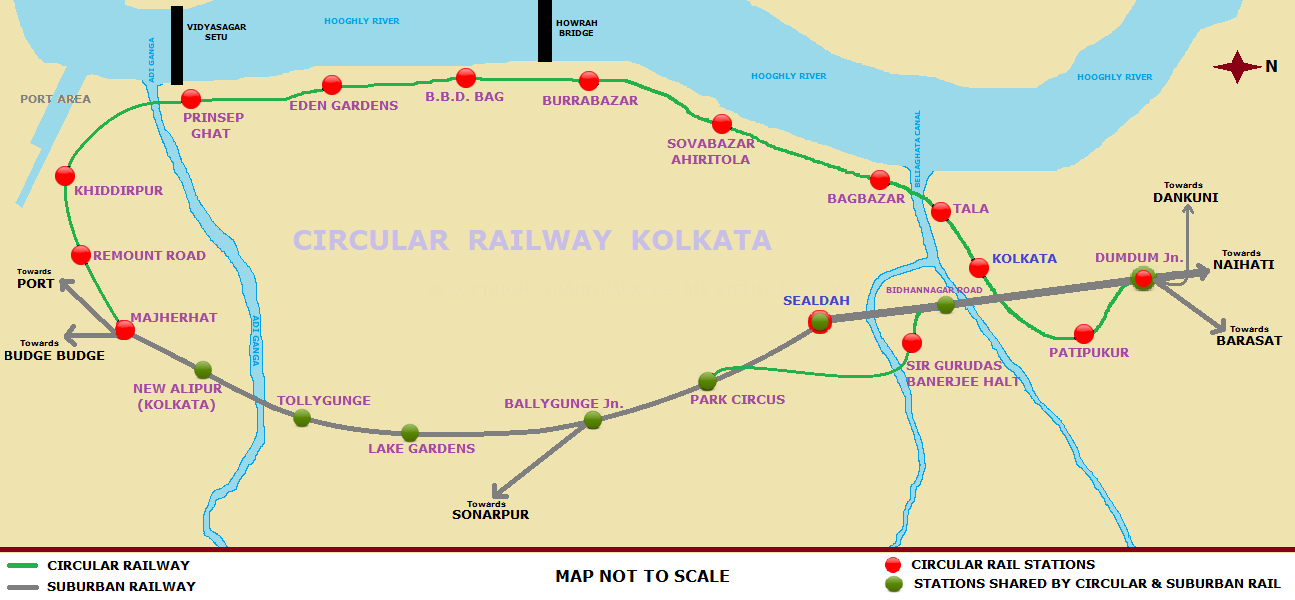 Man lives for the dreams he aspires to achieve... in the same lines Dr. Bidhan Chandra Roy - the ex-Chief Minister of West Bengal dreamt of a railway connection circumnavigating and encompassing the former capital of India to help facilitate communication and change the face of the City of Joy completely. Metros and Bullet Trains were reality of a few nations of the western world, when Dr. Roy thought about this concept extra-ordinaire - the CIRCULAR RAILWAY. This long cherished dream saw the light of the day with the completion of the elevated Majerhat-Princep Ghat section traversing through the Kolkata Port thus enabling the Circular Railway come full circle in 2001. Though the line from DumDum Junction to Princep Ghat was was commissioned much earlier on 16th August, 1984.
The history of 'Circular Railway' dates back to 1947 when Kolkata Terminal Committee recommended construction of a railway network for Kolkata from DumDum Junction. to Majerhat and back to DumDum Junction. in a circular loop. The stretch from Kolkata station to Majerhat station was dotted with Warehouses and marshalling yards and were knitted together with freight lines for loading and unloading goods when the Kolkata Port was in her prime. Those lines became gradually redundant with passing time resulting in total reconstruction for running the Circular Railway in the said stretch.
The Circular Railway brought the northern and southern fringes of Kolkata together on one route - suburban timetables were re-written and history was made. The entire route is dotted with stations like DumDum Junction--Patipukur--Kolkata (erstwhile Chitpur)--Tala--Baghbazar--Sovabazar Ahiritolla--Burrabazar--BBD Bag--Eden Garden--Princep Ghat--Khidderpore--Remount Road--Majerhat--New Alipur (erstwhile Kalighat)--Tollygunge--Lake Gardens--Ballygunge Jn--Park Circus--Sir Gurudas Banerjee Halt--Bidhannagar Road--DumDum Junction. Though the Circular Railway Timetable mentions stations starting from Majerhat upto DumDum Junction - but the circle is incomplete and inconsequent without the entire route as depicted above. Besides the stations mentioned above, there used to exist a station named Ultadanga just beneath the Bidhannagar Road station which was later dismantled and done away with. Again, the railways had a plan to construct a station between Park Circus and Sir Gurudas Banerjee Halt at Tangra - a narrow platform has come up on one side of the track only and has not yet seen the light of the day.
The Circular Railway has proved to be a path-breaking idea that has revolutionised the way of public transport in Kolkata and will continue to serve the cultural capital of the country in times to come.