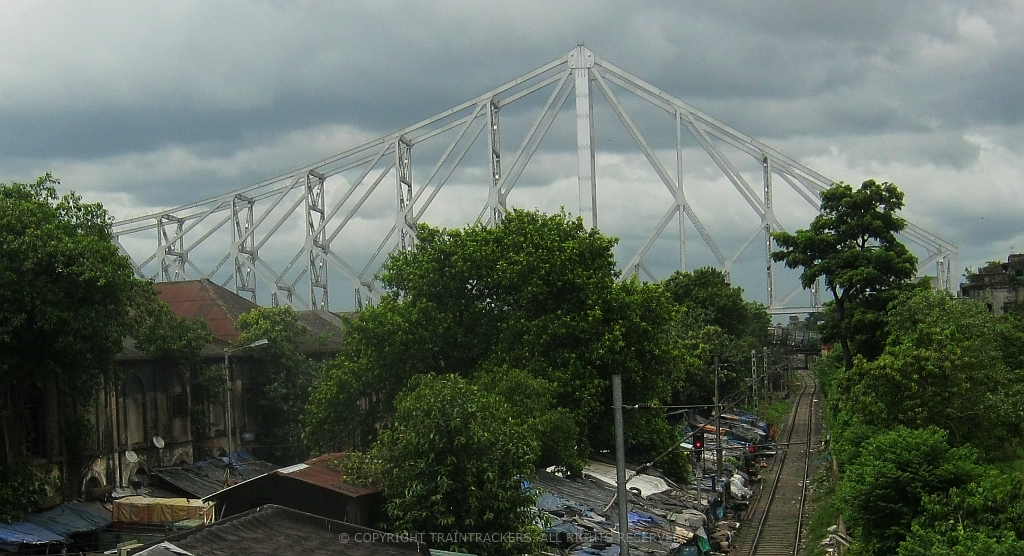 Leaving Burrabazar or Posta (name of the adjacent area) the Circular rail moves towards its next scheduled station - BBD Bag. It is in this stretch one can find the Rajasthani haveli-type dormitory or dharmashala built by Seth Surajmal Jalan Trust on Jagannath Ghat, the corinthian columns at Mutty Seal Ghat, the typically British Rashmoni Ghat with cast iron pillars and timber louvres and the simplicity of Chotelal Ghat. These are all splendid pieces of architecture but lie in utter neglect. Apart from the ghats, there are four Victorian warehouses located along Strand Road. One of them, the Fairlie warehouse, has been restored by Kolkata Port Trust (KoPT) and converted into a Maritime Archives and Heritage Centre. The other two warehouses Canning and Clive remain in decrepit state. Strand Warehouse, which was architecturally the best of the lot was completely gutted by a devastating fire in Feb 2010.
In this stretch circular railway tracks travels under the iconic landmark of Kolkata - the Howrah Bridge. Built between 1936 to 1942, by Cleveland Bridge and Engineering Company Ltd in collaboration with The Braithwaite Burn & Jessop Construction Company of Calcutta, the New Howrah Bridge is a structural marvel, and considered one of the wonders of the world & is of immense heritage value. For more than seventy years now, it is recognised as the living symbol of the city of joy, sharing a totemic relationship with its growth and evolution.
Commissioned in 1943, it is a suspension type balanced cantilever truss bridge with central span 1500 ft. between centers of main towers. The Anchor arms are 325ft. and the Cantilever arms are 468 ft. long at both ends. While the middle suspended span is 564 ft., main towers are 280 ft. high above the monoliths and 76 ft. apart at the top Bridge deck width is 71 ft. with two footpaths of 15 ft. on either side. It was the third-longest cantilever bridge in the world at that time. It consumed 26,500 tons of high-tensile steel delivered by Tata Steel and its construction amazingly did not include the use of nuts or bolts. Interestingly, the first vehicle to use the bridge was a single-boggied Tram-car - though Tram services has been long discontinued for adding years to the bridge. On June 14th 1965, Howrah Bridge was renamed as 'Rabindra Setu' after the first Asian nobel laureate Kaviguru Rabindranath Tagore.